All SD62 elementary schools offer full day Kindergarten for our youngest learners.  To register, children must turn five years of age by December 31 in the same calendar year that they begin school.
Registration for the 2018 – 2019 school year:
JANUARY 29 – FEBRUARY 2, 2018
Beginning at 8:00 a.m.
There are two ways to register:
Online at 

registration.sd62.bc.ca

. Please make sure to present proof of child's age and residence to your neighbourhood school within 14 days of registering.
At your neighbourhood school. Please present proof of child's age and residence to the school at the time of registration.

Online registration for the school bus is open!  Register by June 24 if your child requires school bus transportation starting in September. Please visit the Transportation page for information including fees and guidelines.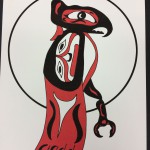 With the selection of our new logo, we are ready to begin exploring what it means to be a Hans Helgesen Hawk!  We will be working on updating our school's Code of Conduct to reflect the new acronym of "SOAR" this spring.  Our PAC is also sponsoring a visit from the Raptors Center near Duncan.  All our students will have a chance to see hawks in action!
We are very happy to share the winning logo design from our student Matteo S. in grade three.  Thank you to everyone who designed a logo and submitted an entry.  It was wonderful to see all the thoughtful designs and talent!
This Friday is our last school day before the Spring Break.  We return to work on Wednesday, March 30.
I hope you all have a wonderful, fun and family-filled break!
Sincerely,
Mrs. Debra Stoutley, Principal
Hello Hans Helgesen Families,
We are busy finishing learning activities and incorporating seasonal fun as we rapidly approach our winter break.  This week we are focused on Friday since it is "hot chocolate" day.  We are asking students to bring a mug to school to help us continue to be "litter-less" in our lunch.
Also, our PAC is asking for donations of gently used items for the Christmas Store.  This is an opportunity for students to purchase gifts between $1 and $5 that are for parents.  Each student will be guaranteed one gift and if we have enough donations they may be able to purchase two or more.  If you have items that you could donate to the Christmas Store, please bring them to the office.
In the last week of school, we will be having our caroling sing along in the gym on Thursday afternoon.  Parents are always welcome to join us!  Also, on Friday the 18th we are planning a walk to Devonian Beach!  More news on that to follow!
-Mrs. Stoutley
Dear Hans Helgesen Families ~
Don't forget this Friday, December 4th is our Pancake Breakfast and Craft Day for the entire school!
There will be no Breakfast Program since we will be eating pancakes as soon as school starts.  Students are welcome to wear their pajamas!
Craft afternoon begins at 1:00 pm in our "family groupings".  Parents are welcome to come and help for either event.
November is a busy month at Hans Helgesen!  Please check our calendar for important dates.
Thank you to Ms. Wood and Ms. Satterfield for their work on our student-led Remembrance Day ceremonies.  Our students celebrated our country and the brave men and women who have served it with poems, songs, art and family stories.  It was a very special tribute.
Families who ordered the "Veggie Bags" will have them to pick up on Tuesday, November 17th.  If you are able to help organize this, please contact Cindy Carroll or your class PAC Rep.
Poinsettia orders are due!  Please get your order in by this Friday, November 13th.
Groove Classes begin soon!  You should have received an email that introduced you to our latest after school activity – Groove Dance Class.  This is an excellent opportunity for children to dance and move for enjoyment and exercise!
We will be having our concert this year "Celebrate the Holidays" on December 8th at 1:00 and 6:30 pm.  We are asking for families to bring an item to donate to hampers as an entrance gift this year.
Watch for upcoming dates for our December Pancake Breakfast, Craft Day and more!