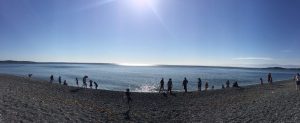 Friday, June 15 is Beach Day!  We are going to "Aylard's Farm" in East Sooke Regional Park (there is a small sign on East Sooke Rd) and Sassenos Elementary will be there with us.  We leave the school at 9:00 am on our busses and leave the park at 1:30 to return to school.  Children will be allowed to go into the water up to their ankles since we have lifeguards on duty. Teachers would be grateful for parent volunteers.  Please let your child's teacher know if you are able to accompany us on this fieldtrip!  There is limited room for adults to ride with us on the bus and no children that are not school age are permitted to ride on district busses.  Therefore, I ask that parents who wish to come along follow us in their own vehicles to the beach.
Please ensure your child has:
Appropriate clothing for sun or clouds (including shoes, a hat, a jacket, and a change of clothing in case they get wet)
Sunscreen – please apply it before they come to school
Lunch and snacks
Plenty of water
Towel or mat to sit on
Sand toys are permitted
*All these items must fit into your child's backpack
I have emailed all parents a "Beach Explorer's Code" from the CRD.  We will be reminding students of this important behavior in our parks.  We appreciate you reinforcing this for us.
If you would like to do something other than return to the school at the end of our time at the beach, please check in with your child's teacher to let them know your plans.  Please don't hesitate to contact Mrs. Stoutley or Sherri if you have questions.
All SD62 elementary schools offer full day Kindergarten for our youngest learners.  To register, children must turn five years of age by December 31 in the same calendar year that they begin school.
Registration for the 2018 – 2019 school year:
JANUARY 29 – FEBRUARY 2, 2018
Beginning at 8:00 a.m.
There are two ways to register:
Online at 

registration.sd62.bc.ca

. Please make sure to present proof of child's age and residence to your neighbourhood school within 14 days of registering.
At your neighbourhood school. Please present proof of child's age and residence to the school at the time of registration.