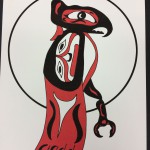 With the selection of our new logo, we are ready to begin exploring what it means to be a Hans Helgesen Hawk!  We will be working on updating our school's Code of Conduct to reflect the new acronym of "SOAR" this spring.  Our PAC is also sponsoring a visit from the Raptors Center near Duncan.  All our students will have a chance to see hawks in action!
We are very happy to share the winning logo design from our student Matteo S. in grade three.  Thank you to everyone who designed a logo and submitted an entry.  It was wonderful to see all the thoughtful designs and talent!
This Friday is our last school day before the Spring Break.  We return to work on Wednesday, March 30.
I hope you all have a wonderful, fun and family-filled break!
Sincerely,
Mrs. Debra Stoutley, Principal